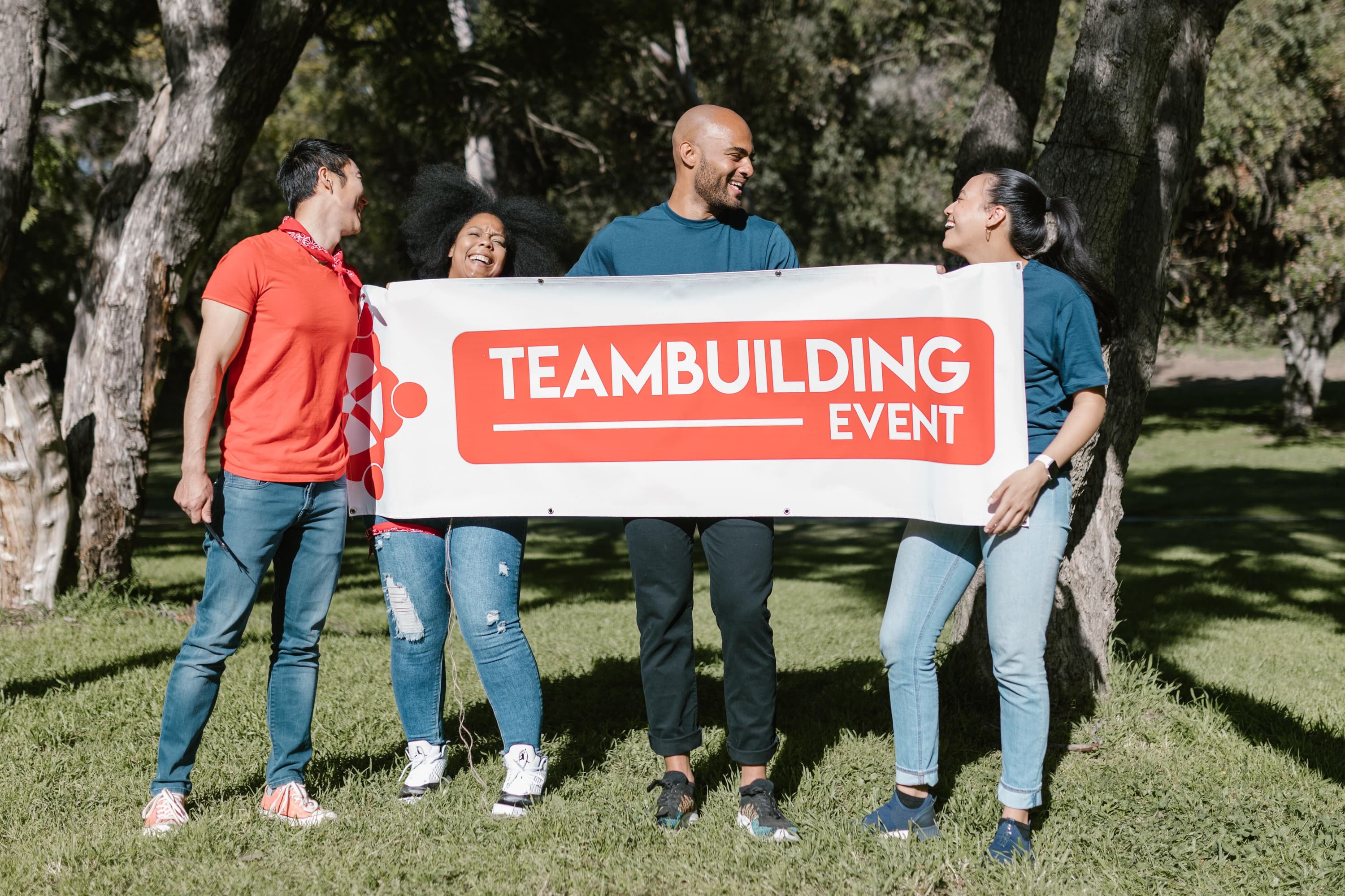 Many com­pa­nies are return­ing to the office while oth­ers are opt­ing for ful­ly remote or hybrid work mod­els, leav­ing many lead­ers won­der­ing how they can build uni­ty across a phys­i­cal­ly divid­ed team.

For those return­ing to the office, it might be awk­ward for employ­ees to recon­nect in an in-per­son set­ting after so long. For hybrid teams, it might be chal­leng­ing to ensure that the in-office and remote employ­ees are inter­min­gling. For the remote work­ers, the same issues exist that have exist­ed through­out the entire COVID-19 pandemic.

The ques­tion remains: How can lead­ers pro­mote team­work and uni­ty dur­ing this tumul­tuous time?

7 Team Building Exercises to Build Team Unity
1. Volunteer Together
Vol­un­teer­ing togeth­er is a social­ly con­scious and pro­duc­tive way to build team uni­ty. It allows employ­ees to give back to their com­mu­ni­ty, work togeth­er to reach a shared goal and build trust with­in their organization.

86% of mil­len­ni­al employ­ees report that they'd take a pay cut to work for a com­pa­ny that shares their val­ues. Addi­tion­al­ly, vol­un­teer­ing cre­ates some­thing called the ​"helper's high," a term used to describe the nat­ur­al hap­py feel­ing that occurs when help­ing oth­ers. Vol­un­teer­ing togeth­er can increase over­all employ­ee well-being while simul­ta­ne­ous­ly cre­at­ing an atmos­phere of pos­i­tiv­i­ty and shared values.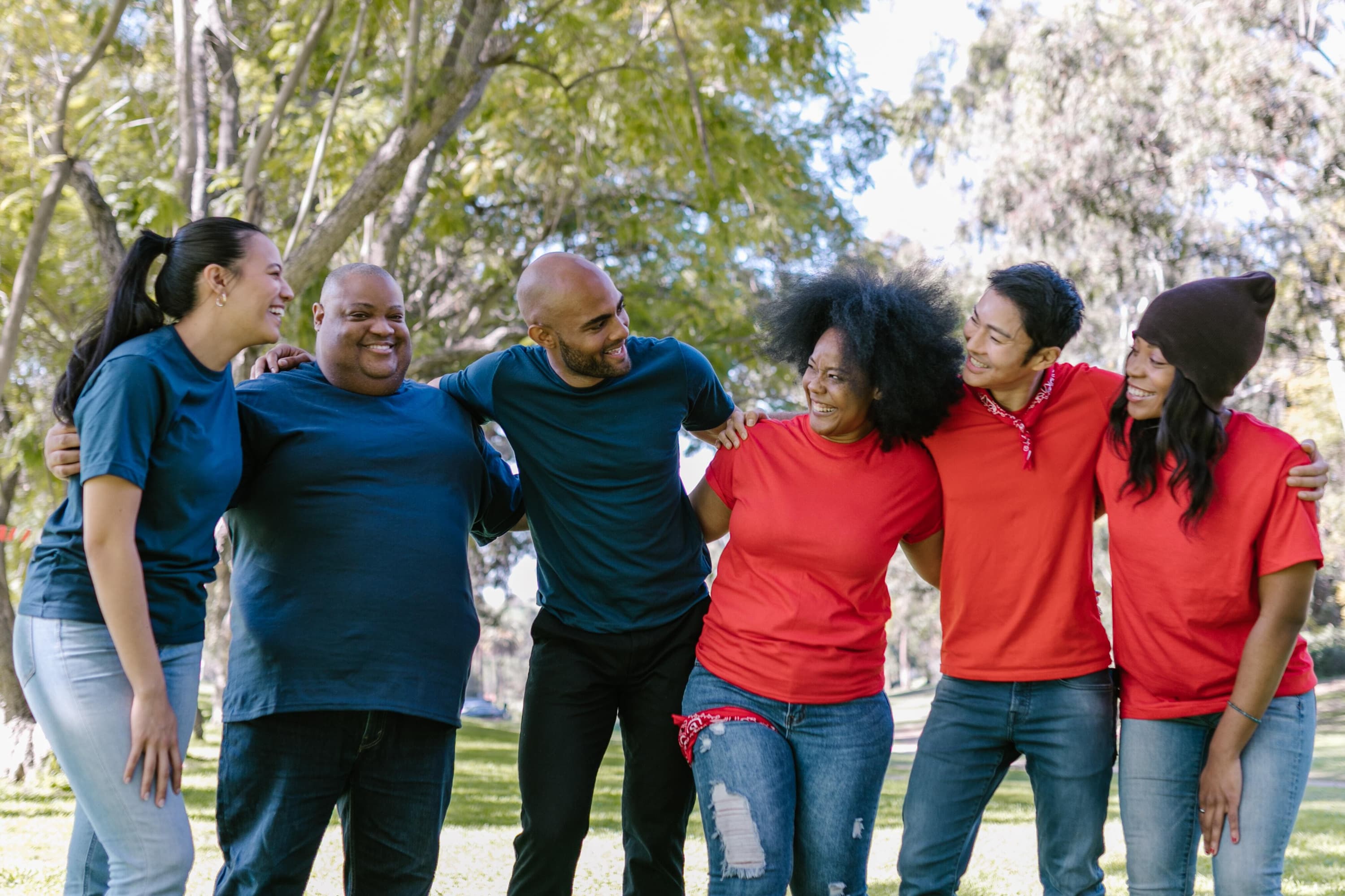 2. Game Nights
There are near­ly end­less pos­si­bil­i­ties with game nights, and orga­ni­za­tions shouldn't lim­it them­selves to just one. Low cost options include board games, puz­zles and work-themed triv­ia nights. More extro­vert-friend­ly options include escape rooms, laser tag and paint­ball for the whole office. Remote teams can get involved with vir­tu­al games, too.

Game nights build team uni­ty, and it gives peo­ple some­thing fun and excit­ing to do with their time.

3. Get Some Fresh Air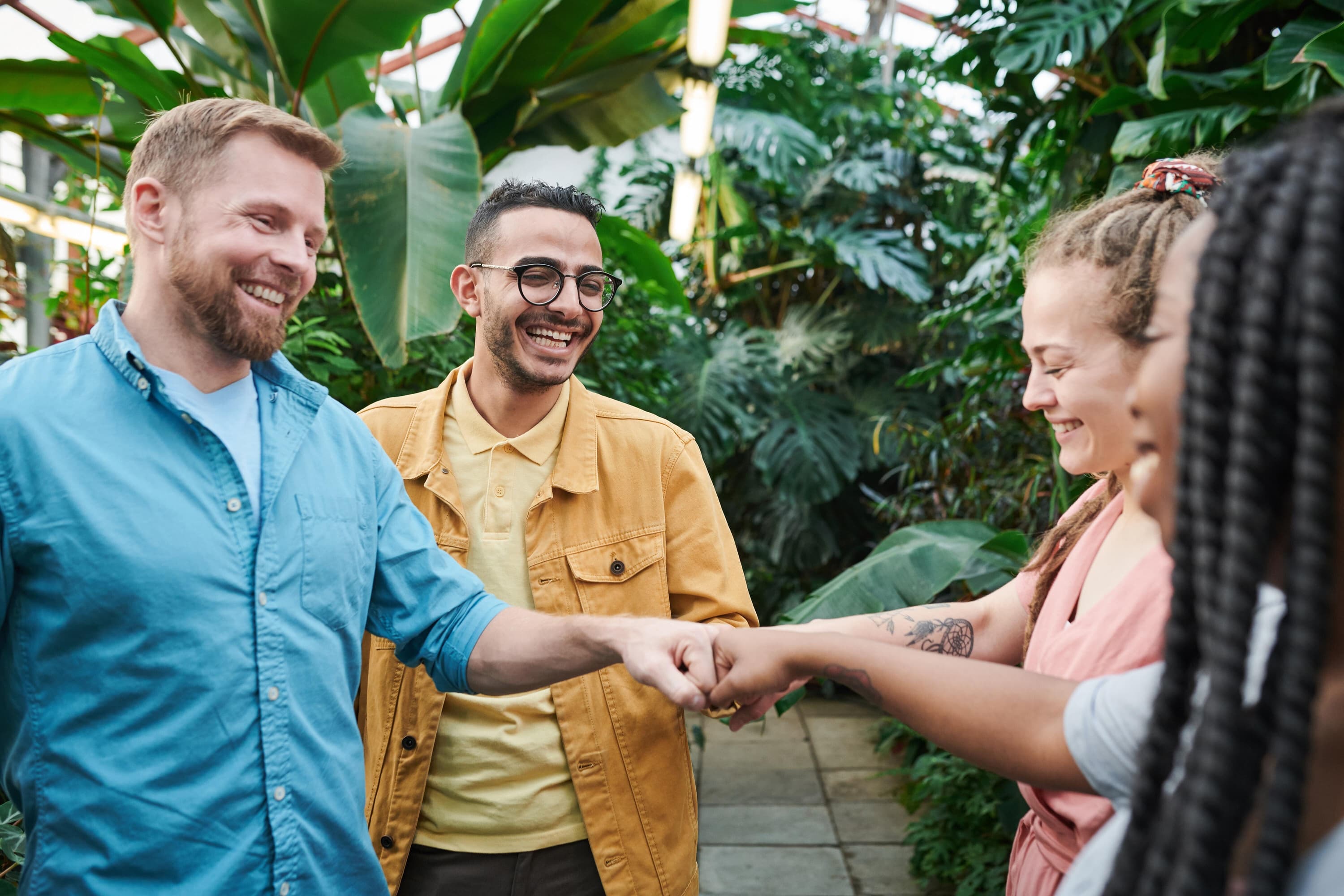 If the weath­er per­mits, com­pa­nies should con­sid­er get­ting out­side a lit­tle more. They can gath­er in a court­yard for out­door meet­ings, go for walks and talk one-on-one or have entire work­ing days spent out­side in the fresh air. For remote or hybrid teams, com­pa­nies can spon­sor out­door days and encour­age at-home employ­ees to share pic­tures from their out­door activities.

For anoth­er option that isn't work-cen­tric and doesn't require large tables and portable pow­er sources, com­pa­nies can also offer catered pic­nics in a local park. That way, employ­ees can eat, social­ize and soak up some reju­ve­nat­ing sun­shine.

4. ​

"

Moonshot" Brainstorm Sessions
"Moon­shot" is a term coined by Google that describes some of their more ambi­tious, cre­ative and risky ideas. Of course, there's no rea­son that oth­er orga­ni­za­tions shouldn't try to emu­late one of the best com­pa­nies to work for in the world.

Moon­shot brain­storms allow employ­ees to have fun togeth­er, cre­at­ing and shar­ing explo­sive, ridicu­lous and maybe even unre­al­is­tic ideas, goals and projects in a judg­ment-free envi­ron­ment. First, this is just a fun activ­i­ty that employ­ees will enjoy, and sec­ond, this is also the kind of engag­ing activ­i­ty that could unlock hid­den poten­tial and pro­mote cre­ativ­i­ty in the workplace.

5. Scavenger Hunt in the Office
If an orga­ni­za­tion was forced to move or shut down dur­ing the pan­dem­ic, their teams might be return­ing to a brand-new office. But, even if the office is the same, it's def­i­nite­ly been a while. A scav­enger hunt is a cost-effec­tive, fun-fueled way to get to know the new team mem­bers, reac­quaint with the old ones and build team camaraderie.

For more fun and excite­ment, super­vi­sors can even split the employ­ees into teams and add prizes as incen­tives, includ­ing gift cards, time off or addi­tion­al points for their lifestyle ben­e­fits plat­form.

6. Potluck/Family-Style Office Party
Cre­at­ing a potluck or fam­i­ly-style office par­ty is an excel­lent break from the norm. Com­pa­nies can gath­er at an event space, cre­ate a theme for the cui­sine or even hire a restau­rant to cater. This kind of event allows peo­ple to show off their culi­nary skills and enables them the time and space to social­ize out­side of work.

For remote teams, com­pa­nies can encour­age employ­ees to share and try each oth­ers' recipes or cater meals to be deliv­ered to all the dis­persed employees.
7. Sporting Events and Concerts
Depend­ing on the state of the pan­dem­ic and employ­ee pref­er­ences, sport­ing events and con­certs are excel­lent ways to build team uni­ty. These types of events cre­ate pos­i­tive mem­o­ries that can last a life­time. If employ­ees asso­ciate those mem­o­ries with their orga­ni­za­tion and co-work­ers, it will enable them to build sol­id and healthy rela­tion­ships with their teams and employers.

Like many of the oth­er ideas, com­pa­nies can involve their vir­tu­al team mem­bers. They can be invit­ed to watch the game or con­cert online and have a group chat to talk about what's hap­pen­ing dur­ing the event.

Boost Team Participation by Focusing on Employee Well-Being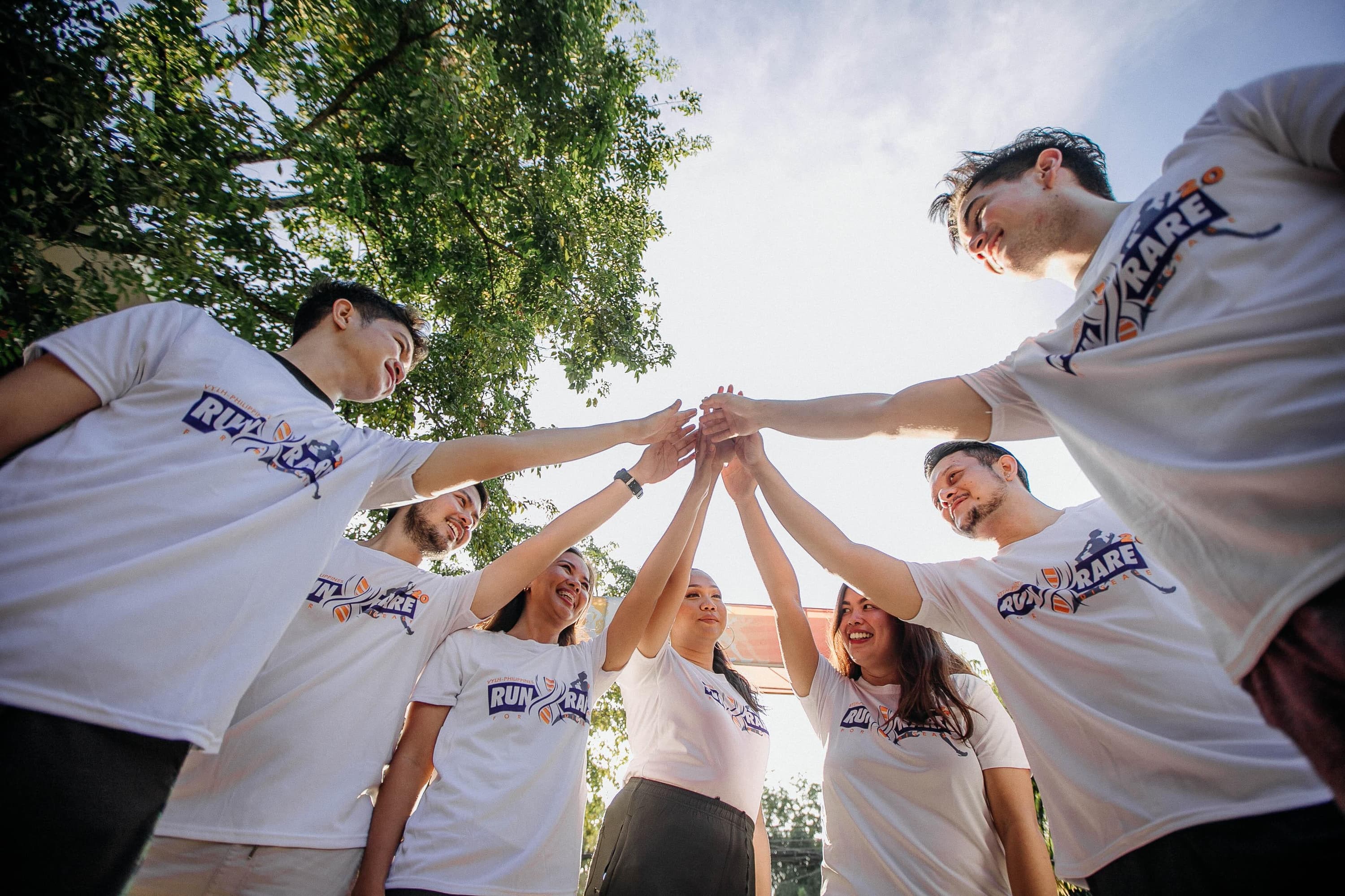 To fur­ther off­set the chal­lenges of nav­i­gat­ing today's chang­ing work dynam­ics, orga­ni­za­tion lead­ers need to con­sid­er activ­i­ties for team build­ing. These sev­en team-build­ing exer­cis­es are a great way to dri­ve a clear­er sense of team uni­ty and identity.

Ulti­mate­ly, com­pa­nies need to focus on increas­ing employ­ee hap­pi­ness and engage­ment since hap­py employ­ees are more apt to par­tic­i­pate in team-build­ing activ­i­ties and more like­ly to stick around.

One way to do that is with cus­tomiz­able lifestyle ben­e­fits via Fringe's plat­form. Con­tact our team to see what Fringe can do for your company!