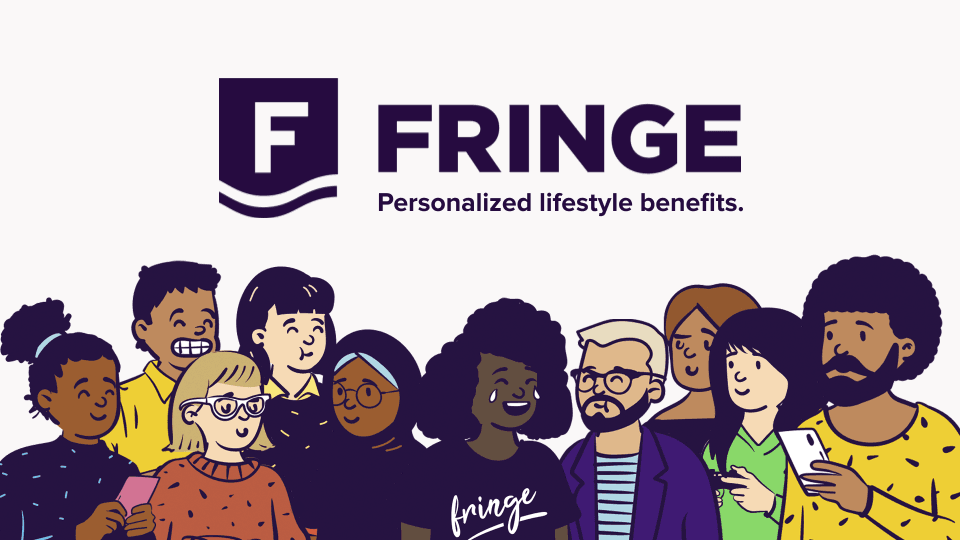 By Fringe CEO Jor­dan Peace
When a group of bud­dies (myself includ­ed) start­ed Fringe, we knew we were onto some­thing big — but we nev­er could have pre­dict­ed the role we'd play in paving the way for an entire­ly new class of ben­e­fits and perks that would become indis­pens­able dur­ing a glob­al crisis.
Today, after what's been a trans­for­ma­tive year in employ­ee ben­e­fits, I am excit­ed to announce that we've raised $4M in cap­i­tal, led by Sov­er­eign's Cap­i­tal, with par­tic­i­pa­tion from Fel­ton Group, Man­ches­ter Sto­ry, the Cen­ter for Inno­v­a­tive Tech­nol­o­gy, and angel investors. As part of this invest­ment, we're also announc­ing the addi­tion of William Boland, Senior Direc­tor of Cor­po­rate Devel­op­ment and Strat­e­gy at Mis­sion Lane, to our Board of Direc­tors. Will is a senior busi­ness leader with a proven track record for lead­ing high growth orga­ni­za­tions, includ­ing Car­Lotz, the recent­ly-pub­lic auto retail­er he found­ed in 2011 and guid­ed to over $100 mil­lion in annu­al rev­enue. We're extreme­ly grate­ful to have Will's busi­ness and oper­a­tional exper­tise as we enter this excit­ing new chap­ter in the Fringe story.
Today's mile­stone caps a mon­u­men­tal year of growth for our com­pa­ny. The WFH chal­lenges of the past 12 months have forced employ­ers to rethink their ben­e­fits play­books, putting aside tried-and-true ben­e­fits strate­gies for flex­i­ble offer­ings that meet the needs of today's employ­ees (many of whom are expe­ri­enc­ing burnout, stress and anx­i­ety). Cus­tomers are con­stant­ly telling us how much their peo­ple appre­ci­ate the sim­plic­i­ty and flex­i­bil­i­ty of the Fringe plat­form, and the abil­i­ty to pick-and-choose ben­e­fits that bring imme­di­ate val­ue to their dai­ly lives — from con­ve­nient meal ser­vices, to men­tal health offer­ings, and oth­er delight­ful deliveries.
Turo, the San Fran­cis­co-based car shar­ing mar­ket­place, turned to us ear­ly in the pan­dem­ic seek­ing out flex­i­ble and cus­tomiz­able ben­e­fits to bet­ter sup­port their new­ly-WFH employ­ee base. Incred­i­bly, Turo has seen a 96% engage­ment rate on the plat­form (com­pared to the 50% engage­ment rate that com­pa­nies typ­i­cal­ly aim to hit with tra­di­tion­al ben­e­fits). Turo's suc­cess is a tes­ta­ment to the val­ue that lifestyle ben­e­fits and perks bring to the new workplace.
It's been an impor­tant year of trans­for­ma­tion for the employ­ee ben­e­fits land­scape in gen­er­al, and Fringe has undoubt­ed­ly ben­e­fit­ed from this shift. In the past year, we have:

Grown our cus­tomer base by over 450% and our user base by over 5000%


Scaled our plat­form to serve employ­ee pop­u­la­tions in 35 coun­tries around the world


Offered over 150 (and count­ing) ven­dors on the Fringe plat­form that suit a vari­ety of needs — from food ser­vices like Door­Dash and Uber Eats, to fam­i­ly offer­ings like Urban­Sit­ter and KiwiCo, and every­thing in between


Built our team to meet new demand, increas­ing head­count over 300%

More good news? We're only just get­ting start­ed. Look­ing ahead, this new invest­ment will allow us to con­tin­ue improv­ing our prod­uct for our cus­tomers — we'll be intro­duc­ing new fea­tures, more fan­tas­tic ven­dors and even more ways to lever­age Fringe points (expand­ing on gift­ing options and more). We'll also con­tin­ue grow­ing our team and scal­ing sales, oper­a­tions and cus­tomer ser­vice func­tions to sup­port con­tin­ued growth into new mar­kets around the world (if you're look­ing for work with a pur­pose, check out our careers page!).
Among the many sil­ver lin­ings of the Covid-19 pan­dem­ic has been the pos­i­tive influ­ence it's had on the work­place. It accel­er­at­ed an inevitable indus­try trans­for­ma­tion, one in which flex­i­ble lifestyle ben­e­fits are no longer a ​"nice to have" sup­ple­ment but an essen­tial ingre­di­ent to employ­ee hap­pi­ness and over­all well­ness. We're so proud to have played a role in this impor­tant evo­lu­tion for the indus­try, and rest assured, we'll be there to keep your peo­ple hap­py for years to come.